Stock markets in Asia have kicked off the week with a nice lift: Hong Kong's benchmark index rallied almost 2 percent, South Korean equities jumped more than 1 percent, and Taiwan, the Philippines and Singapore also had good starts.
It's nothing like what happened in the U.S., where the S&P 500 Index had its third-worst Thanksgiving week since 1939. With Monday's gains, the MSCI Asia Pacific Index is heading for a 1.2 percent increase in November, and if the rally holds this week it would be its first monthly advance since July. Even U.S. stock-index futures are climbing: contracts on the S&P 500 rose 1.3 percent as of 5:02 p.m. in Singapore.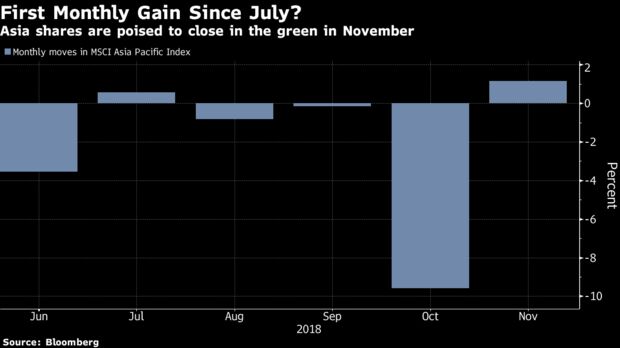 So what caused Monday's surge? Hong Kong developers led gains in the Hang Seng Index. On the Topix index, construction and transport stocks rallied after Osaka won the bid to host the 2025 World Expo. The magnitude of this year's equity sell-off has also prompted market players to call a bottom in some markets:
Morgan Stanley's strategist Jonathan Garner called time on his bearish view on emerging markets and upgraded on both EM and Japan for 2019.
Jefferies analyst Sean Darby said in a 2019 outlook report that the Topix may climb to 1,900 as a loose monetary policy and cheap yen support the nation's economy.
In Australia, two big research firms were at odds on where the stock market may go next year: Morgan Stanley downgraded shares to underweight, while Citigroup's Tony Brennan wrote that the S&P/ASX 200 Index could rise to 6,500.
In Taiwan, the key equity gauge rose the most this month after the pro-China Kuomintang inflicted a resounding defeat on leader Tsai Ing-wen's party in local elections. That could mean an improvement in relations with the mainland, which is good for cross-strait business, according to Bloomberg Markets Live strategist Mark Cranfield.
And in Southeast Asia, both the Singapore and Philippine stock markets were on a tear Monday. The Philippine Stock Exchange Index closed 0.8 percent higher, just below the 7,400 level, as strategists said that the equity bottom may be over. Singapore-listed manufacturing stock Venture Corp. gave the Straits Times Index its biggest boost, while Hi-P International Ltd. jumped by the most on record and received a trading query from the nation's stock exchange.
Still, whether the gains can last through Friday is anyone's guess. As Bloomberg Television's David Ingles put it, it's looking like a "monumental week" ahead for the market as we wait for some clarity on two big issues: the China-U.S. spat and the Fed's tightening cycle. So far, the signs have been positive but as we've seen this year, things can change in the blink of an eye.
Here's what's expected this week:
Presidents Donald Trump and Xi Jinping plan to meet at the G-20 summit in Argentina that kicks off on Friday.
Federal Reserve Vice Chairman Richard Clarida will speak on Tuesday, and Chairman Jerome Powell will address the New York Economic Club on Wednesday. Fed minutes from the November meeting are scheduled to be released on Thursday. Click here to read more about views from Bloomberg Intelligence economists.
China will post November manufacturing and non-manufacturing PMI figures on Friday.
India will release second-quarter fiscal 2019 GDP on Friday.
Earnings: Tingyi, Chow Tai Fook, Malayan Banking, CIMB Group, Thai Beverage.
What's worth noting is that energy stocks remain the biggest drags in Asia. Crude traded below $51 a barrel on concerns record output by Saudi Arabia may exacerbate a supply glut, and as Trump continued to call for lower prices. But on the other side of the story, Asian airlines were flying high as they should be benefit from lower fuel prices.
Other notable movers in Asia:
Japanese Construction Stocks Bolstered by Osaka's World Expo Win
Chinese Airline Stocks Fly High on Crude Slump as Oil Firms Slip
FamilyMart Climbs Amid Speculation Over Liquidity, Price Issues
Amada Climbs as MUFJ-MS Sees Earnings Boost From Fiber Lasers
Shimamura Slides as Monthly Sales Drop Worse Than Expected
Metro Glass Dives on Lower Profit Forecast, Dividend Halt
Stock-Market Summary
Japan's Topix index up 0.2%; Nikkei 225 up 0.8%
Hong Kong's Hang Seng Index up 1.7%; Hang Seng China Enterprises up 1.3%; Shanghai Composite down 0.1%
Taiwan's Taiex index up 1%
South Korea's Kospi index up 1.2%; Kospi 200 up 1.3%
Australia's S&P/ASX 200 down 0.8%; New Zealand's S&P/NZX 50 down 0.4%
India's S&P BSE Sensex Index up 0.9%; NSE Nifty 50 up 0.8%
Singapore's Straits Times Index up 1.2%; Malaysia's KLCI up 0.4%; Philippine Stock Exchange up 0.8%; Jakarta Composite up 0.3%; Thailand's SET up 0.5%; Vietnam's VN Index up 0.3%