The three Asian central banks leading the region's tightening cycle have used a spell of relative calm to take a breather on raising interest rates — but it's not likely to last.
With the Federal Reserve set to move again, possibly in December, and more signs of escalation in the U.S.-China trade war, policy makers in India, Indonesia and the Philippines are likely to be on high alert again soon.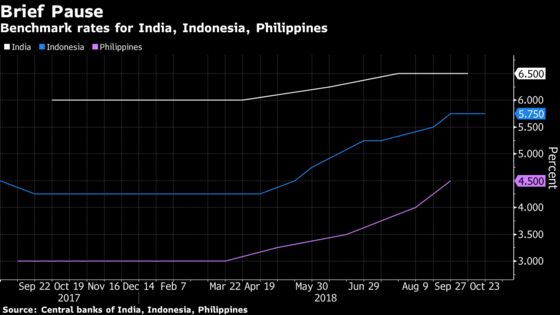 "We are expecting that this is going to be a temporary halt," said Reza Siregar, head of Asean and India research at the Institute of International Finance.
For Indonesia, India and the Philippines — who fought for months to defend their currencies and head off an exodus of investors — the end of the tightening cycle is "not a done deal," he said.
Donald Trump already appears willing to double down on his trade war, with the U.S. said to be preparing to announce tariffs on all remaining Chinese imports by early December if talks with Beijing fail to appease the president.
America's midterm elections on Nov. 6 add another element of uncertainty that could roil emerging markets. Then there's the existing challenge of China's slowing growth and concerns about oil prices.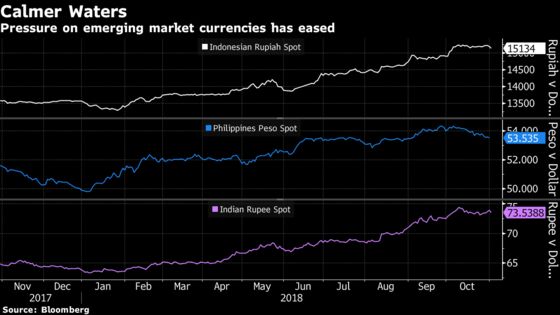 India and Indonesia were among the hardest hit economies from the sell-off that rattled emerging markets this year. The rout has seen India's rupee fall about 13 percent against the dollar while and Indonesia's rupiah is down more than 10 percent.
While subdued inflation may have reduced underlying pressure on Indonesian policy makers to hike interest rates — consumer prices climbed 3.16 percent in October after rising at their slowest pace in more than two years in September — the central bank has vowed to continue efforts to stabilize the rupiah. Most economists surveyed by Bloomberg see Bank Indonesia hiking rates into next year as policy makers keep their focus on the currency.
India's central bank surprised markets by staying on hold in early October after a significant tightening in financial conditions after back-to-back rate increases in June and August. It flagged risks to growth due to higher oil prices and weaker global growth, both of which could prove to be a drag on domestic expansion in coming quarters.
Still, stabilizing oil prices have provided a degree of relief for Indian policy makers, who are also contending with a damaging rift with the government. In a country that imports more than 80 percent of its crude requirements, softer oil prices could take some pressure off the rupee and could see inflationary expectations wane in coming months.
In the Philippines, where consumer prices growth remains above the central bank's target band, officials are assessing the need for another rate hike as they gauge the impact of four straight rate increases.
Bangko Sentral ng Pilipinas has raised the benchmark rate at every meeting since May this year, to 4.5 percent, the highest level since 2011, to cool the fastest inflation in almost a decade. While Finance Secretary Carlos Dominguez said the cycle of elevated inflation has peaked, central bank Governor Nestor Espenilla has warned that another rate hike is possible.
The Institute of International Finance sees Indonesia and the Philippines raising rates again this quarter, with India to follow in the first quarter of 2019.
Indonesia and the Philippines are likely to follow the Fed most closely because they have relatively low levels of debt and require foreign financing, according to Trinh Nguyen, a senior economist at Natixis Asia Ltd. in Hong Kong.
The region has learned its lessons from the Asian financial crisis two decades ago and policy makers are vigilant with reserve management and external debt exposure, she said, adding that they'll do what they can to help their economies if the dollar strengthens.
"We do not expect Asian central banks to stand idly by," Nguyen said.