Macquarie Group Ltd. is shutting Asia's oldest quantitative equity hedge fund after a poor performance in recent years, said a person with knowledge of the matter.
The Australian company told investors nearly three weeks ago that the 13-year-old Macquarie Asian Alpha Fund would close, said the person, who asked not to be identified because the information is private. The fund, which has Australian and U.S. dollar versions, posted losses for each of the past three years, newsletters show. Assets plummeted to $133 million in September after peaking at about $2 billion in 2015.
Once one of Asia's largest and most successful funds of its type, Macquarie Asian Alpha ran up against tougher conditions for quant market-neutral equity funds in recent years. Macquarie will retain similar hedge funds focused on Europe and the Americas, as the firm believes those markets offer better prospects, said the person.
This year, quant funds have struggled as their value investments — bets on companies priced cheaply — have failed to deliver returns. Bets on growth and momentum, such as wagers on high-flying tech stocks, haven't generated enough to offset the losses.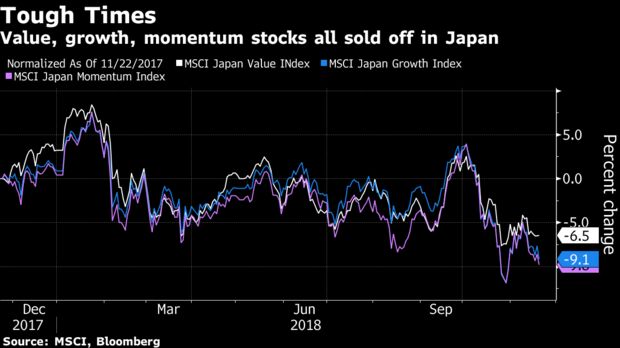 A $2.6 billion quant stock fund that's a joint venture between Igor Tulchinsky's WorldQuant LLC and Izzy Englander's Millennium Management LLC, dropped 9.5 percent in October and is down 2.9 percent since it started trading in May. An equity market neutral mutual fund overseen by AQR lost almost 15 percent this year as of Wednesday, according to data compiled by Bloomberg. AQR manages $226 billion of assets globally and its founder Cliff Asness is seen by some as the godfather of quant investing.
The Australian dollar version of Macquarie Asian Alpha declined about 6.3 percent in the first nine months, according to its newsletter. A Hedge Fund Research Inc. index tracking equity market-neutral hedge funds gained 1.1 percent in the same period. It didn't break out quant funds separately.
Laura Bramwell, a Sydney-based spokeswoman for Macquarie, declined to comment.
The Macquarie fund used computer models to analyze company fundamentals and pick stocks, while letting humans sometimes intervene in decisions.
In the decade after its October 2005 inception, the Australian dollar version of the fund posted an annualized return of nearly 11 percent and had a lone annual loss of 9.5 percent in 2008, according to the person and newsletters. But macro-economic concerns have dominated markets since late 2015 and correlations between pairs of stocks have increased, hurting market-neutral funds designed to profit from differences in returns by investing in large numbers of equities.
The remaining Europe and Americas funds will be managed by a 13-person team led by Nick Bird and George Platt, who co-head quant hedge funds at Macquarie Investment Management, the person added. Andrew Alexander, a former team member, left in October.