Philippine central bank Governor Nestor Espenilla delivered on his pledge for strong action to curb inflation, raising the benchmark rate by a bigger-than-usual half a percentage point, and promised to do more if needed.
Bangko Sentral ng Pilipinas increased the overnight reverse repurchase rate to 4 percent, it said in a statement in Manila on Thursday. Twelve of the 17 economists in a Bloomberg survey predicted the decision, with the rest expecting a 25 basis-point hike.
"The Monetary Board noted that latest baseline forecasts have shifted higher over the policy horizon, indicating some risk of inflation exceeding the target in 2019," the central bank said in the statement. It now projects inflation will average 3.7 percent next year, up from a previous estimate of 3.3 percent.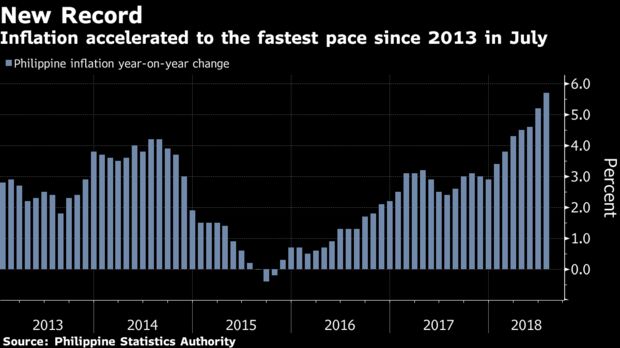 The biggest hike since 2008 comes as central banks in emerging markets take more aggressive steps to contain the fallout from rising U.S. rates and a stronger dollar. Inflation in the Philippines is at the highest in five years at 5.7 percent, while the peso is trading near its lowest level in 12 years.
"The BSP reiterates its strong commitment and readiness to take all necessary policy actions to address the threat of high inflation," the central bank said in the statement.
Espenilla has faced criticism the central bank has been too slow to act against inflation, undermining investor confidence. He stepped up the rhetoric in recent weeks, saying he's determined to maintain price stability and bring inflation back to the central bank's target of 2 percent to 4 percent in 2019.
Market Confidence
"A very strong move today from the BSP which should certainly bolster market confidence and help anchor inflation expectations," said Chidu Narayanan, Asia economist at Standard Chartered Plc in Singapore. "The rhetoric post the meeting was very key, and I think the BSP's very hawkish stance — promising to do more, if required, to ensure inflation is on target — is as strong as it can get."
The central bank raised its inflation forecasts for this year and next, and Espenilla said price gains will probably reach its peak this quarter. Higher global oil costs, an increase in levies on fuel, sugary drinks and cigarettes and record rice prices are boosting inflation this year.
| | AUG 9. | JUNE 20 |
| --- | --- | --- |
| 2018 | 4.9% | 4.5% |
| 2019 | 3.7% | 3.3% |
| 2020 | 3.2% | n/a |
The rate hike came hours after data showed economic growth slowed to a three-year low of 6 percent in the second quarter, missing all economists' estimates in a Bloomberg survey.
"The economy is on strong footing and it can take adjustments like this, so it can achieve more sustainable growth over the medium-term," Espenilla said at a briefing in Manila.
Political pressure has also mounted, with President Rodrigo Duterte's spokesman saying this week the president is "gravely concerned" by the pick-up in inflation and House Speaker Gloria Arroyo calling for half a percentage point rate hike.
The peso is down about 6 percent against the dollar this year, while the Philippine Stock Exchange Index has lost more than 8 percent.
Bangko Sentral raised its benchmark rate by 25 basis points at each of its May and June meetings. The last time the Philippines raised the key rate by more than a quarter point was in July 2008, when it similarly hiked by 50 basis points.